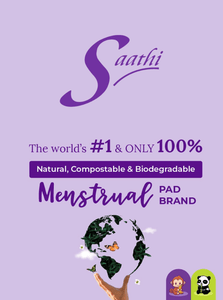 Saathi Deals & Promotions
Check out some of our latest deals promotions and offers...
🎉 Free shipping on orders above 599! 

🎉 
🎉 Discount Codes & Offers!

🎉 
🎉Saathi's Birthday Sale is LIVE! #SGBBS 

🎉
For the final week of our 6 weeks-long bamboozling bananas birthday sale, our crazy deal is:
Go Bananas! 
If you haven't already, we are here to help out! 

(Scroll down to see how to apply this sale!)
That's right!  Enjoy our BOGO sale along with amazing goodies! 
Here's how to avail this offer:
Step 1: 
Add your desired products to your  cart. 
Step 2: 
Add the same or any other product to your cart again for BOGO. 
The product with lower value is on us and the total value of it will become Rs 0.00/- ! 
Step 3: 
For free goodies, add the products to your cart and the goodies will be auto added to your cart as per your cart total! 
Happy shopping! 
Enjoy this offer from 24/09 to 30/09, or till stocks last. 
Please note that you will have to buy more than one product for BOGO to be applicable.
Offer is not applicable on trial packs.
T&C Applied.
**Contact us at care@saathipads.com in case of any issues (do send screenshots if necessary). Reach out to us on our email to share your experience, stories, and feedback!
🎉 

Save 7% by signing up for our newsletter!🎉 
Earn seeds when you shop and redeem them for discounts!
Save with a subscription and shop now!