About Saathi Pads
Saathi is a purpose driven manufacturing company that makes eco-friendly hygiene products. Founded by graduates from MIT (US) and Nirma, we are innovators in the use of alternative materials and zero-waste production. Our mission is to create hygiene products that are good for the body, environment, and community.
Saathi's Mission
Watch our video and learn more on what we are about, and what drives us to create hygiene products that benefit the body and the world.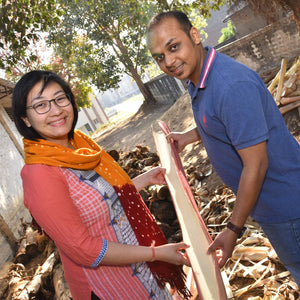 How our story began:
Saathi began in 2015, when its co-founders Kristin Kagetsu, Tarun Bothra, and Grace Kane - graduates of MIT (US), Nirma University and  MIT (US) - came together on a mission to create fully eco-friendly, compostable sanitary napkins using locally sourced banana fiber from the state of Gujarat, where Saathi is based. 
We were inspired by the idea of improving women's access to sanitary pads in India. Kristin was passionate about making a product that is sustainable using natural materials and impacts women. She had previously commercialized and launched sustainable natural-dye crayons made by local artisans in Uttarakhand, India.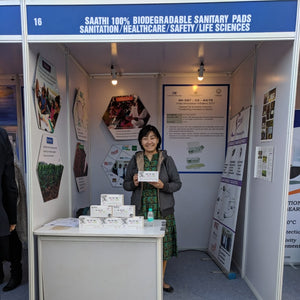 Tarun brought his business experience in renewable energy, materials and passion for improving the lives of the masses to set up this new social venture. Tarun also had personal experiences with a family member who was affected by having to face the taboos around menstrual hygiene in India. 
Grace was also passionate about sustainable product design and innovation as well as impacting women. We found a way to source natural eco-friendly materials for sanitary pads to make a product that not only positively impacted women but was also good for the environment. We were motivated by the potential to make a positive difference for women in India while using an engineering approach focused on ecology and sustainability. 
Together we combined our experiences to conceive and develop a biodegradable and compostable sanitary pad with a cradle to cradle (completely sustainable) business model which also embodies circular economy. Our team has business, technical, and local expertise to develop new products and set up manufacturing. We aim to apply this to other absorbent products.
Biodegradable & Compostable
Saathi Pads use plant-based materials for the leak-proof outer layers of the napkin.
Rash-Free
Many consumers have issues with irritation or rashes from the plastics/chemicals in standard pads. Saathi pads don't contain chemicals.
No Plastic!
The average conventional sanitary pad contains 3.4g of plastic. This means that over her lifetime, the average woman will generate 60kg of plastic from sanitary pads alone.
Decomposes
In 2016, there were 150,000 tons of sanitary pad waste in India. When disposed of, Saathi pads degrade within six months - 1200 times faster than plastic pads!
Why Saathi Pads are the Best Choice!
Six reasons why Saathi Pads are the right choice when shopping sustainable and biodegradable products!
1. More Eco than Cotton
Banana fiber uses six times less water per ton produced than cotton, and 10 times less fertilizers.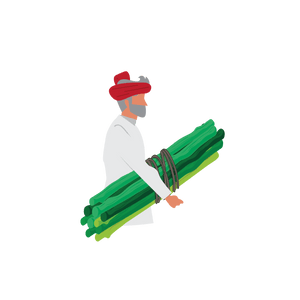 2. Locally Sourced
Saathi Pads makes sanitary napkins out of locally sourced banana fiber from Gujarat. We buy the banana stems from collectives of local farmers and extra the fiber that is normally discarded after harvesting.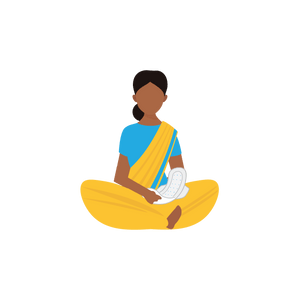 3. Empowering Women
Saathi employs women from the community to produce sanitary napkins. This has led to an increase in job opportunities and empowers women.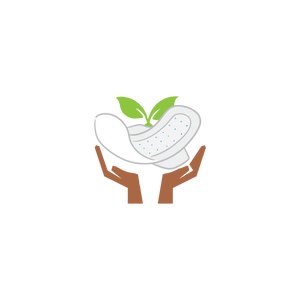 4. Better than Plastic
Saathi Pads are biodegradable & compostable. The average conventional sanitary napkin contains 3.4g of plastic. When disposed of, Saathi pads degrade within six months - 1200 times faster than plastic pads!
5. Educating in Rural Areas
The team at Saathi also organizes workshops and discussion groups to create awareness among rural women on the importance of menstrual hygiene.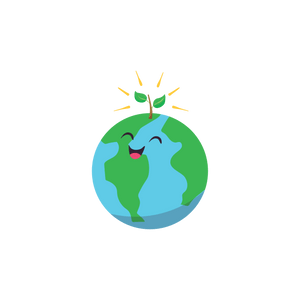 6. Best for Planet!
When the women dispose the santiary napkins, it goes back to the earth giving life to a healthier, cleaner, and empowered tomorrow.
Saathi's 2021 Donation Campaign
To help us reach our goal of supporting 5000 menstruators with biodegradable sanitary pads in India for an entire year, please consider contributing to our campaign! Our Give India campaign is only for contributors in India and has 80G tax deductible benefits.
Read our blog to learn more.
Donate Now